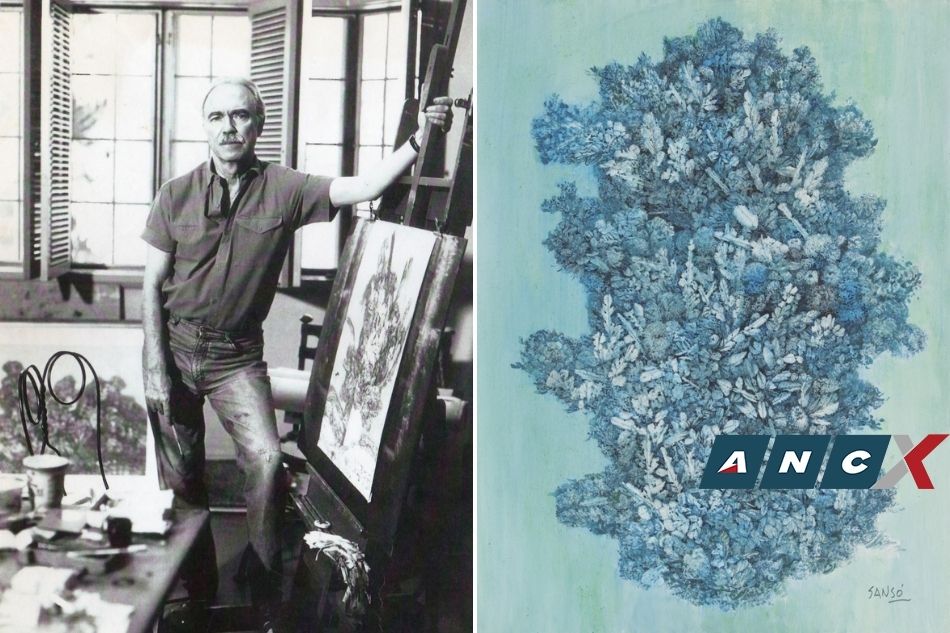 Sansó fans will exhibit their private collections
Culture
In a new series of exhibitions at Fundacion Sansó, the museum explores the relationship between artist and collector, while giving the public access to private collections
ANCX staff | February 23, 2022
One of the most intriguing relationships in the art world is that which develops between the artist and his collector. What drives you to keep buying an artist's work over the years, and is a personal relationship really necessary? Does a collector dream one day of influencing the work of an artist?
These questions and more will be explored in Fundacion Sansó's series of shows, Sansó: Prized and Personal. It will feature the Spanish-born artist's passionate collectors and their private acquisitions. The exhibits, according to the press release, aim to provide insight into the many aspects of Sansó's art and how those aspects resonate with individuals and families who have made it their personal mission to create a comprehensive collection of Sanso. It will also allow the public to view works that have long been in homes and private institutions.
The collection featured in the very first exhibition is that of Fundacion Sansó President Jack Teotico, who, along with other friends of the artist, founded the San Juan Museum in 2014 with the artist to establish the legacy of Sansó and support his pleas.
Composed of 36 works, mainly on paper, in different mediums covering the different periods of Sansó's artistic career, from the black period, from the floating bouquet and barong-barong dry brush creations, to the very popular Brittany and En Vase series, this first of the "Praised and Personal" shows is a celebration not only of Sansó's artistry, but also of the long-standing friendship between Teotico and Sansó.
Teotico first met Sansó in the early 1980s when the former was still working at the Philippine Fiber Industry Development Authority along Benavidez Street in Makati.
"One Saturday I was working and decided to go grab a bite to eat, and ended up walking into an art gallery," Teotico says. Long story short, he crashed into a jam session by the famous Saturday band that he thought was just a bunch of random amateurs. "At that time I was only 30, and a lot of men were in their 50s and 60s and what they painted was really good. I was curious so I walked in and looked at them.
The group was then led by national artist Cesar Legaspi. Its members included names such as Onib Olmedo, Mauro Malang, Romulo Olazo, Ang Kiukok and Jose Joya.
After a few weeks, Teotico became a regular at the sessions, joining in to draw or simply observe. "And then every once in a while there was this guy who would appear, medyo blue-green eyes, artist-looking! Every time he showed up, nagkakagulo sila because he was so full of life , full of energy, with lots of news from Paris or New York, marami siyang kuwento," Teotico continues. "And that guy was Juvenal Sansó."
This chance encounter with the Saturday Group led to Teotico's friendship with Sansó and the beginnings of an art collection – not only comprised of works by the Spanish-born maestro, but other major Filipino artists as well.
Teotico shares what sets Sansó's art apart from others. "One of the things I've learned from collecting is to discern a work of art not by thinking whether it's good or bad, but by measuring the emotional impact of that work on the viewer," Teotico explains. "There is an emotional impact in every Sansó painting. Each of them will have a nuance or something that will make you happy, sad, disturbed or relaxed. But emotionally it will hit you. And the emotional impact is very important in collecting. Don't buy a painting if it doesn't hit you here [points to the heart].
For Teotico, Sanso's works usually possess this visceral quality. "In Sansó's paintings, you could feel the blue sky. You could feel the sea, the mist of water hitting the rocks, the verdant splendor of nature. This is the greatness of Sansó l'Homme – how many artists can give you that?
[The Sansó: Prized and Personal online launch on February 24, 2022, at 2:30pm will be shown via FB Live on the official Fundacion Sansó Facebook page. Sansó: Prized and Personal can be viewed online, and the physical exhibit at Fundacion Sansó will run until April 30, 2022.  
For more information, contact Fundacion Sansó at [email protected], or follow them on Facebook @FUNDACIONSANS0 and @fundacion_sanso on Instagram. Fundacion Sansó is located at 32 V. Cruz, San Juan City. Museum hours are 10am to 3pm Monday to Friday.]