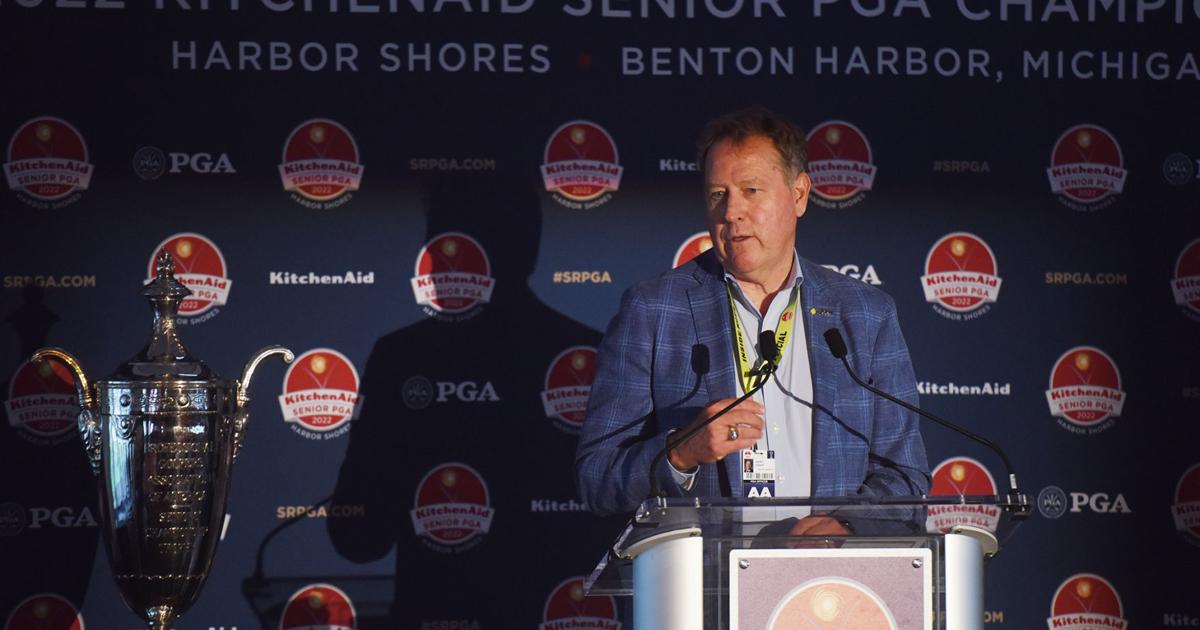 PGA Senior Officials Talk Donations and Goals at Community Breakfast | Benton Harbor
BENTON HARBOR — The KitchenAid Senior PGA Championship at Harbor Shores isn't just about golf, former Whirlpool Corp. president and CEO Jeff Fettig said Friday.
"It's about community, and it's about giving back," Fettig said. "Over the years, more than a million dollars have been donated to youth organizations in our community. And we are proud to introduce our community to millions of viewers.
Fettig's comments came during a community breakfast at the 2022 KitchenAid Senior PGA Championship, which was held to honor community leaders and announce this year's economic impact and donations.
Fettig said the Harbor Shores development has brought nearly $10 million to the community since its inception and created about 600 temporary jobs with a payroll of half a million dollars.
PGA officials have announced significant donations to two community organizations that work with children. The Curious Kids' Museum of St. Joseph and the YMCA of Greater Michiana each received $50,000 from the PGA of America.
"I'm overwhelmed," Curious Kids' Museum executive director Lori Marciniak said after Friday's event. "We are so grateful for the things this money can do for the museum."
She said the money will likely be used for new exhibits for the museum, which promotes and encourages fun and hands-on learning for children.
Jill Haboush, director of development for the YMCA, said the $50,000 will support the organization's mission of youth development and healthy living.
"I'm just thrilled. This is so exciting. It's an honor to host the Kids Zone," she said.
The YMCA Kids Zone, held on the golf course, offers fun activities for children and is joined this year by the Curious Kids' Museum.
Jim Richerson, president of the PGA of America, said the Senior PGA Championship has always been about more than golf.
"It's about the community and the recognition of selfless leaders that make this region such an amazing place," he said. "We are proud to support the Curious Kids' Museum and the YMCA in providing impactful services for area youth.
The two donations were made in addition to $50,000 in scholarships for Lake Michigan College's Start-to-Finish programs, through the PGA Scholarship Program and Whirlpool's Jack and Barbara Nicklaus KitchenAid Senior PGA Champions for Change . Scholarship recipients will be announced later.
Luis Benitez, a former scholar, said it changed his life.
"When my family first arrived in southwest Michigan, I spoke no English. There were very low expectations for me," he said. "Thanks to the Start-to -Finish from LMC, I went to the University of Michigan and became a registered nurse."
The scholarships are awarded to members of the Benton Harbor community who have graduated from LMC with an associate degree and plan to continue their college education.
Richerson said the Jack and Barbara Nicklaus KitchenAid Senior PGA Champions for Change Scholarship Program was created to inspire recipients to create their own golden opportunities through education and embodies the values ​​that Jack Nicklaus has stood for throughout his life. his life – earning with integrity and giving back to others.
Support efforts
Benton Harbor Mayor Marcus Muhammad, St. Joseph Town Commissioner Mike Sarola and Berrien County Commissioner Mamie Yarbrough were honored by the PGA, as was Vice President of Communications Jeff Noel. and public affairs from Whirlpool, who goes to work in Kentucky. He has been recognized as a leader in the development of Harbor Shores.
"Without his leadership, this would never have happened," said U.S. Representative Fred Upton, R-St. Joseph. "It's an example of what you can do when you work together. This area used to be a mess. This community came together and transformed it into what it is today.
Muhammad also recognized Noel for his earlier efforts.
"He wanted to go out quietly, so I didn't ask permission and I will ask for forgiveness," the mayor said. "On behalf of the citizens of Benton Harbour, I wanted to honor him for his accomplishments."
Noel said to date he receives scathing emails from non-tellers who oppose the development, saying Whirlpool should pay communities the money it makes from development and the senior PGA.
"Do you have two hundred?" Noel jokingly asked Fettig, who replied that Whirlpool didn't make money from the PGA. "It's not about making money. Whirlpool will always be committed to our community and will always do its fair share.
Noel said the 98% of area residents who support efforts to bring the community together for the good of all should speak louder than the vocal minority.
"Don't waste opportunities. Do not let me down. I didn't do this for the fame or the money. I did it because I love you all," Noel said. "We really are a big community, and we allow too many people to drown that out. It's time to stop letting a small number of voices distort, try to tear us apart and create division.
Fettig, who is general chairman of the 2022 KitchenAid Senior PGA Championship, said the development of Harbor Shores began as a catalyst to move the community forward.
"The positive impact this has had on Southwest Michigan year after year continues to amaze me. It has brought people together across golf to make lasting change," he said.
John Lindert, vice-president of the PGA of America, said when he heard about the proposed development and visited the area, he never thought it was possible.
"I never thought this would happen. I went back there many times and couldn't believe what I saw happen," Lindert told community breakfast attendees. PGA of America is proud to be a part of it, and the impact on the community is incredible. Thank you for allowing us to be part of the experience."