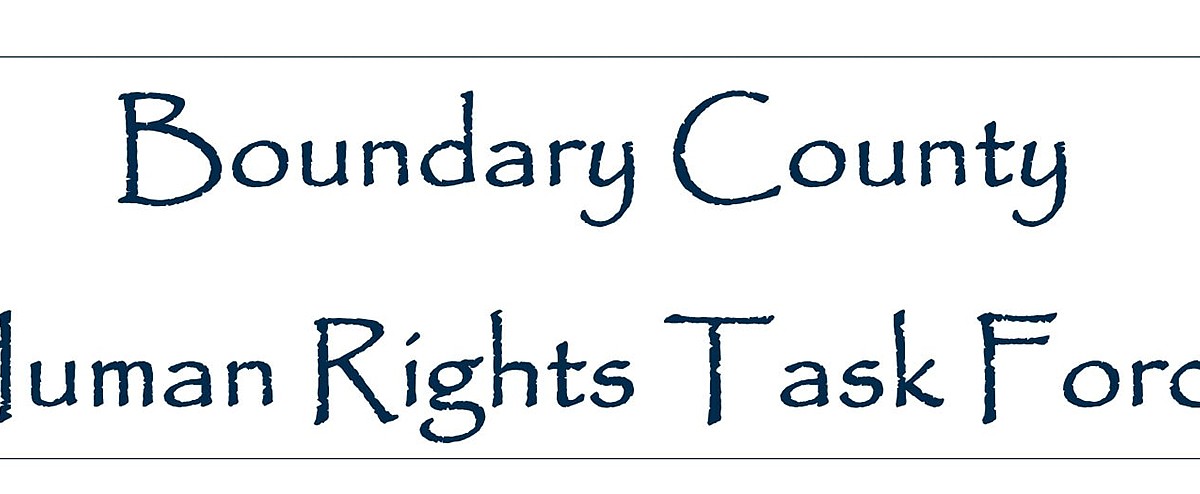 It's Time: Strengthening a Caring and Respectful Community
Community can be defined as a group of people with diverse interests, beliefs and characteristics bound by common ties. Successful communities are those where people live and work together in civil ways and respectfully accept differences. Through the democratic process, citizens have the opportunity to choose community leaders and make decisions for the common good.
Public schools, libraries, hospitals and places of worship are non-partisan institutions and the cornerstones of a community. Non-partisan means free from any affiliation with any particular party or bias to ensure that all people are represented, not just a particular interest group.
The Boundary County Public Library serves all county residents "regardless of age, sex, race, religion, social, economic or political status." A September 11, 2017 "Library Journal" article named the Boundary County Library the winner of the "2017 Best Small Library in America" ​​award and said the Boundary County Library District is a model of civic engagement more than fulfills its mission to "create a culture of opportunity" and is a model for all American libraries. "BCLD has partnered with an impressive number of community agencies, businesses and institutions, including local non-profit organizations such as county 4-H, a museum, a hospital, a home schools, the Fraternal Order of Eagles and the town food bank. Collaborations have been established with local schools and government organizations. For technical support, BCLD turns to Alpha Robotics FIRST Team 2130-FAB Lab and the Fab Foundation Global Community. Our county library, with its clubs and activities, has been a mainstay of our community for generations.
The public school system is another nonpartisan institution and the backbone of a thriving community. It is essential for a strong economy and ensures that all students, regardless of income or background, have access to the same excellent educational opportunities. Established in 1947, the Boundary County School District has taught generations of students. BCSD administrators, teachers, and staff serve with dedication and excellence, often making up for insufficient funding with their time and money. Some graduates have gone on to work for NASA, Intel and Boeing. Many stay or return home to work in our local schools and businesses and become civic leaders who give back to the community. We urge you to support BCSD and the August 30 bond election to secure much-needed funding to improve county school facilities, which benefits our entire community.
Boundary County is used to being a welcoming community where residents are free to choose how they raise their children, live their lifestyle, and practice their religious and personal beliefs. A welcoming community, however, is not an invitation to discriminate or erode civility.
The Boundary County Library and the Boundary County School District have been attacked by individuals and groups seeking to improperly influence these nonpartisan institutions with their personal partisan ideologies. The use of threats and intimidation by angry protesters has become common at city, county, library and school board meetings. People often bring guns to influence decisions. It is unacceptable to threaten an elected official, a council volunteer or a citizen by making him fear for his safety.
In recent years, a mix of religious extremism and militant anti-government views, some of which have been associated with the American Redoubt movement, has grown in our community. The surviving realtors present Boundary County as the heart of the redoubt, an "island of refuge" to prepare and defend against a tyrannical government and await a societal collapse. Destroying public education and public libraries and overriding local government are part of their efforts to impose their ideologies that harness fear and anger and are often funded by black money outside of our community and state.
In 1987, a coalition of churchmen, community leaders, law enforcement, civic organizations, and residents united against the threat of white nationalism and formed the Human Rights Task Force. Boundary County man to oppose all forms of discrimination, harassment and threats of violence. The Task Force continues to deliver on its promise to uphold the dignity and worth of all and to find peaceful ways to eliminate acts of harassment and violence.
It is time for our community to pull together and step up once again to deal with this growing threat to our civil society. By rejecting hate, fear and intolerance, together we can foster and strengthen a caring and respectful community.
The Boundary County Human Rights Task Force can be viewed online at borderhumanrights.org. Contact them by email at [email protected] or on Facebook, and by post at PO Box 615, Bonners Ferry, ID 83805. Find out more online at libraryjournal.com/story/bestsmalllibrary2017.